This plugin is designed to handle some challenges unique to high school coaching staffs, where coaches often coach two (or more) teams in different roles. For example, one coach can be the Head Coach of the Junior Varsity team and the Offensive Line coach for the Varsity team. That coach can be shown as the first coach on the JV staff and somewhere lower on the Varsity staff listings. Here's how to do it: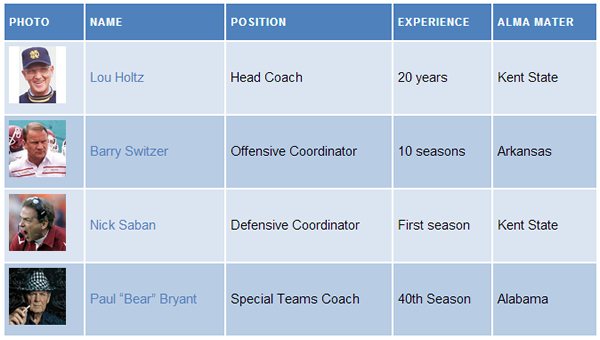 [mstw-cs-table staff=varsity-football show_alma_mater=1 show_photos=1 show_experience=1 show_position=1]
Begin by adding the Coaches using the Coaching Staffs -> All Coaches -> Add New Coach admin page.
Next add the Coaching Staffs, using the Coaching Staffs -> Staffs admin page.
Finally add the Staff Positions, using the Coach Staffs -> All Staff Positions -> Add New Staff Position admin page.
It is important that you enter/add data in this order because the coach and staff must be entered before they can be associated with a staff position.
HELLO
Want to create a gallery view like the one below? Read how.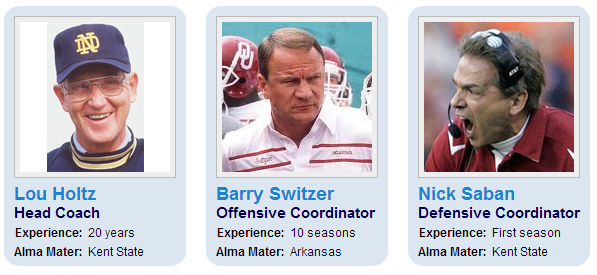 NOTES: The Coaching Staffs plugin is the fifth in a set of plugins supporting the My Sports Team Website (MSTW) framework. Others include Game Locations, Game Schedules, Team Rosters, and League Standings, which are all now available on WordPress.org. Statistics, Sponsors, Frequently Asked Questions, Users Guide, and more are planned for future development. If you are a developer and there is one you would really like to have, or if you would like to participate in the development of one, please contact me (mark@shoalsummitsolutions.com).