Version 0.2 of the MSTW Coaching Staffs plugin contains all the good stuff from version 0.1 – coaching staff tables, single coach profile pages, coaches galleries, internationalization – plus significant new functionality.
NEW IN VERSION 0.2
VERSION 0.2 PROVIDES SIGNIFICANT NEW FUNCTIONALITY AS OUTLINED BELOW, INCLUDING THE FLEXIBILITY TO CHANGE THE VISIBILITY AND LABELS ON ALL DATA FIELDS.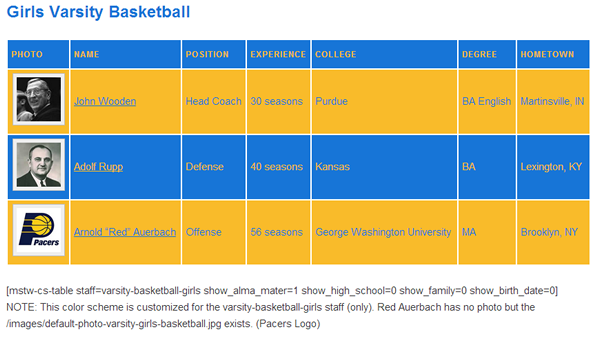 Cleaned up a few minor bugs that were reported.
Added show/hide controls for all data fields and columns to Display Settings.
Added numerous other Display Settings, primarily settings for the gallery, including: Show/Hide Title, Title Color, Corner Style, Photo Size (width x height), Border Color, Border Width.
Also added settings for the Single Coach's Profile Border and Width.
Added more CSS tags the display code and plugin stylesheet to allow any team's coaching staff to be individually and uniquely styled via the plugin's stylesheet.
Added link to Coach's Profiles from coach's photos (as well as their names), just like on the tables (shortcode) displays.
Please read the Installation Instructions, FAQs, Coaches Gallery and Single Coach Profile Pages and Coaching Staffs Table Shortcode for how to get these page templates working properly. If you have modified the stylesheet or the theme templates, they WILL be overwritten by the new installation, so you'll want to back them up first.
Happy upgrading!! Please use the WordPress Plugin Forum if you have any questions [or to report any bugs. 🙁 ]